TOMMASO MONACELLI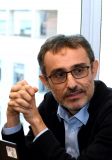 Professore Ordinario
Dipartimento di Economia

Insegnamenti a.a. 2022/2023
20285
ADVANCED MACROECONOMICS
30459
MACROECONOMICS AND ECONOMIC POLICY
40308

ADVANCED MACROECONOMICS 4
Note biografiche
Nato il 10 Agosto 1968. Laureato in Discipline economiche e sociali presso l'Università Bocconi. Master of Arts e PhD in Economics presso la New York University (1999).
Curriculum Accademico
Professore Ordinario dal 2011. Professore associato presso il Dipartimento di Economia "Ettore Bocconi", 2005-2011. Assistant Professor of Economics presso Boston College, 1999-2002. Research fellow di IGIER e Center for Economic Policy Research (CEPR), International Macroeconomics Programme. E' stato inoltre visiting professor presso la Central European University (Budapest) e research scholar presso la European Central Bank. Dal 2008 al 2013 e dal 2015 al 2018 è stato direttore del Corso di Laurea in Economia e Scienze Sociali. Direttore del Dipartimento di Economia Ettore Bocconi dal 1° Novembre 2017.
Aree di interesse scientifico
Macroeconomia, Economia monetaria, Economia Internazionale
Pubblicazioni
PUBBLICAZIONI SELEZIONATE
"Housing Finance and Monetary Policy" (with A. Calza and L. Stracca), Journal of the European Economic Association (2011); Fiscal Policy, the Real Exchange Rate and Traded Goods", (with R. Perotti), Economic Journal (2010); "Unemployment Fiscal Multipliers" (with R. Perotti and A. Trigari), Journal of Monetary Economics (2010); New Keynesian Models, Durable Goods and Collateral Constraints", Journal of Monetary Economics (2009); Openness and the Sectoral Effects of Fiscal Policy" (with R. Perotti), Journal of the European Economic Association (P&P) (2008), "Optimal Monetary and Fiscal Policy in a Currency Union" (with J. Gali), Journal of International Economics (2008); "Optimal Monetary Policy in a Small Open Economy with Home Bias", (with E. Faia), Journal of Money, Credit and Banking (2008); Optimal Interest Rate Rules, Asset Prices, and Credit Frictions" (with E. Faia), Journal of Economic Dynamics and Control (2007), Monetary Policy and Exchange Rate Volatility in a Small Open Economy" (with J. Gali), Review of Economic Studies (2005); "Monetary Policy in a Low Pass-Through Environment", Journal of Money Credit and Banking (2004), "Into the Mussa Puzzle: Monetary Policy Regimes and the Real Exchange Rate in a Small Open Economy", Journal of International Economics (2003)