SIMONE PADOAN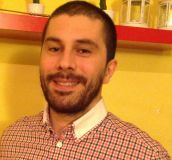 Docente Assistant Professor
Dipartimento di Scienze delle Decisioni

Insegnamenti a.a. 2016/2017
20517
QUANTITATIVE METHODS FOR SOCIAL SCIENCES
30001
STATISTICA / STATISTICS
40255

MODELS FOR RISK EVALUATION
Note biografiche
Simone Padoan è assistant professor presso l'Università Luigi Bocconi da Settembre 2012
Curriculum Accademico
Ho ricevuto il titolo di Dottore in Ricerca in Statistica nel 2008 e la Laurea specialistica nel 2004 presso l'Università di Padova.

Durante il dottorato ho trascorso circa due anni presso la scuola di matematica e statistica dell'Università del nuovo Galles del Sud.

Ho svolto attività di ricerca come: post doc presso l'Ecole Poytechnique Fédérale di Losanna da Febbraio 2008 a Dicembre 2010, assegnista di ricerca presso l'Università di Bergamo da Gennaio 2011 a Settembre 2011 ed assegnista di ricerca senior presso l'Università di Padova da Ottobre 2011 ad Agosto 2012.



Aree di interesse scientifico
Teoria dei valori estremi, l'analisi di dati spaziali, metodi di stima Bayesiani e di verosimiglianza per modelli complessi.
Pubblicazioni principali
Marcon, G., Padoan, S. A., Naveau P., Muliere P. and J. Segers (2017). Multivariate
Nonparametric Estimation of the Pickands Dependence Function Using Bernstein
Polynomials.

Journal of Statistical Planning and Inference

,

183

, 1-17.
Beranger, B., Padoan, S. A. and S. A. Sisson (2016). Models for extremal dependence
derived from skew-symmetric families.

Scandinavian Journal of Statistics

,

44

(1),
21-45.
Genton, M. G., Padoan, S. A. and Huiyan, S. (2015). Multivariate max-stable spatial processes.

Biometrika

,

102

(1), 215–230.

Padoan, S. A. (2013). Extreme Dependence Models Based on Event Magnitude.

Journal of Multivariate Analysis

,

122

, 1-19.

Davison, A. C., Padoan, S. A. and Ribatet, M. (2012). Statistical Modelling of Spatial Extremes, with discussion.

Statistical Science

,

27

(2), 161–186.

Padoan, S. A. (2011). Multivariate Extreme Models Based on Underlying Skew-t and Skew-Normal Distributions.

Journal of Multivariate Analysis

,

102

, 977–991.

Wand, M. P., Ormerod, J. T., Padoan, S. A. and Fruhrwirth, R. (2011). Mean Field Variational Bayes for Elaborate Distributions.

Bayesian Analysis

, 6(4), 847–900.

Padoan, S. A., Ribatet, M. and Sisson, S. A. (2010). Likelihood-Based Inference for Max-Stable Processes.

Journal of the American Statistical Association, Theory & Methods

,

105

, 263–277.