ROSSELLA CAPPETTA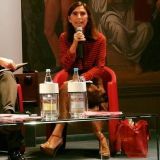 Professore Associato
Dipartimento di Management e Tecnologia

Insegnamenti a.a. 2020/2021
10013

ANALISI E PROGETTAZIONE ORGANIZZATIVA
10113

LABORATORI
10349

ORGANIZATIONAL DESIGN
10828

DISEGNO ORGANIZZATIVO
11089

ORGANIZATION
11301

ORGANIZZAZIONE & PERSONALE
20158
ORGANIZZAZIONE D'IMPRESA / ORGANIZATION
20410
RICERCHE E ANALISI DI MANAGEMENT
Note biografiche
Nata il 30 gennaio 1974. Laurea in Economia aziendale presso l'Università Bocconi (1997). PhD in Management presso l'Università Bocconi (2001). Visiting Scholar presso Wharton School, University of Pennsylvania (2000). International Teacher Programme presso Stockholm School of Economics (2005).
Curriculum Accademico
Professore Associato di Organizzazione. Direttore della Divisione Master della SDA Bocconi (2012-2016). Direttore dell'Area Organizzazione e Personale della SDA Bocconi (2006-20012).

Aree di interesse scientifico
Sistemi di formazione e apprendimento individuale ed organizzativo; coevoluzione di strategia e struttura di responsabilità organizzativa; trasformazioni e responsabilità di impresa.
Pubblicazioni
PUBBLICAZIONI SELEZIONATE
2018, Cappetta, R., Apprendimento Non-stop. Integrare politiche pubbliche e aziendali sulla formazione per conciliare benessere e produttività, Egea
2018, Cappetta, R., Organizzazioni multi-responsabili e multi-monitorate per trasformazioni serie, in Business NeXT, (a cura di) Beltratti A. e Bezzecchi A., Egea
2017, Cappetta, R., "Apprendimento e Formazione", in (a cura di) S. Salvemini, Organizzazione aziendale, Egea
2015, Cappetta, R., & Paolino, C. "Is It Always Worth Waiting? The Effect of Autonomy‐supportive Teaching on Short‐term and Long‐term Learning Outcomes", British Journal of Management
2015, Cappetta, R., & Magni, M." Locus of control and individual learning: the moderating role of interactional justice", International Journal of Training and Development
2014, B. Slavich, R. Cappetta, A. Giangreco, "Exploring the link between human resource practices and turnover in multi-brand companies: The role of brand units' images", European Management Journal
2014, B. Slavich, R. Cappetta, S. Salvemini, "Creativity and reproduction of cultural products: The experience of Italian haute cuisine chefs", International Journal of Arts Management
2013, Magni, M., Paolino, C., Cappetta, R., Proserpio L. "Too Much Fun: How Cognitive Absorption and Team Learning Behavior Affect Trainee Learning", Academy of Management Learning and Education
2010, Cappetta R., Manzoni B., Salvemini S. "Value drivers for cultural events. Empirical evidences from Italy",International Journal of Arts Management
2008, Cappetta R., Cillo P. "Managing Integrators Where Integration Matters: Insights From Symbolic Industries", International Journal Human Resource Management
2006, R. Cappetta, P. Cillo e A. Ponti, "Convergent Designs in Fine Fashion: An Evolutionary Model for Stylistic Innovation", Research Policy
2004, G. Szulanski, R. Cappetta, R. Jensen "When Trustworthiness Matters: Knowledge Transfer and the Moderating Effect of Casual Ambiguity", Organization Science
2004, R. Cappetta, D. Gioia, "Fine Fashion: Sensegiving, Sensemaking and the Use of Symbolic Artifacts in Constructing Identity and Image", in A. Rafaeli e M. Pratt (a cura di), Artifacts and Organizations, Lawrence Erlbaum Associates
2003, G. Szulanski, R. Cappetta, "Stickiness: Conceptualizing, Measuring and Predicting Difficulties to Transfer Knowledge within Organizations", in M. Easterby Smith e M. Lyles (a cura di), Handbook on Organization Learning and Knowledge, Blackwell